Helicopter Tours from SilverHawk
Known as the
"James Bond Tour"
, you'll depart Caldwell and fly over Black Canyon Reservoir to Sweet, Idaho. Your pilot will land on the Anderson Reserve Property like a true secret agent. From there, enjoy bold and familiar flavors from a hand-crafted menu, and a glass of wine from their seemingly bottomless wine bar. Load back up in the luxury R66 for the Sunset Flight back to Caldwell.
Contact Silverhawk Aviation directly for booking information at
(208) 453-8577
https://www.silverhawkaviation.net
Events
The Cigar Silo Is Now Open!!!!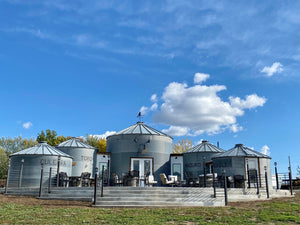 The Cigar Silo Ribbon Cutting
Wednesday, November 1, 2023